The introduction of invasive Asian carps into Canadian waters poses a threat to native species and overall biodiversity.
Asian carps:
Alter habitat

Compete with native fishes for food and habitat

Act as carriers for diseases or parasites that could spread to native fishes
Freshwater fisheries scientist Dr. Nick Mandrak and colleagues at the University of Toronto have analyzed Asian carp characteristics to see how likely each species would survive in Canada. They determined that if introduced, every species would have a high chance of becoming established and once that happens, there is little that can be done. "We've done our best to assess the risks from Asian carp, and they're major. Now it'll take major vigilance to keep them out of Canadian waters." – Dr. Nick Mandrak.

Great Lakes Ecological Risk Assessment
Great Lakes Ecological Risk Assessment
The mandate of Fisheries and Oceans Canada's (DFO) Centre of Expertise for Aquatic Risk Assessment (CEARA) is to identify potential invaders to all parts of Canada, assess their ecological risk, and provide scientific advice towards preventing the introduction of those species considered to be high risk. In 2011, Fisheries and Oceans Canada and partnering organizations conducted a Binational Ecological Risk Assessment of Bigheaded Carps for the Great Lakes Basin.   
The specific questions and answers from the ecological risk assessment process are summarized by topic below.
Arrival
How much risk is there from the various points that Asian carps could enter the Great Lakes?
In general, the physical connections represent higher likelihood than human-mediated releases; however, there is much lower certainty associated with the ranks of human-mediated releases. The highest likelihood of arrival into the Great Lakes basin is from the Chicago Area Waterway System into Lake Michigan.
Survival
Are the Great Lakes too cold? 
No. 
Are the right environmental conditions available? 
Yes.  
Is there enough food and where? 
Yes. There is enough food, especially in Green Bay, Saginaw Bay, Lake St. Clair, and Lake Erie. Warm embayments in lakes Superior, Ontario, Huron and Michigan should also provide suitable amounts of food.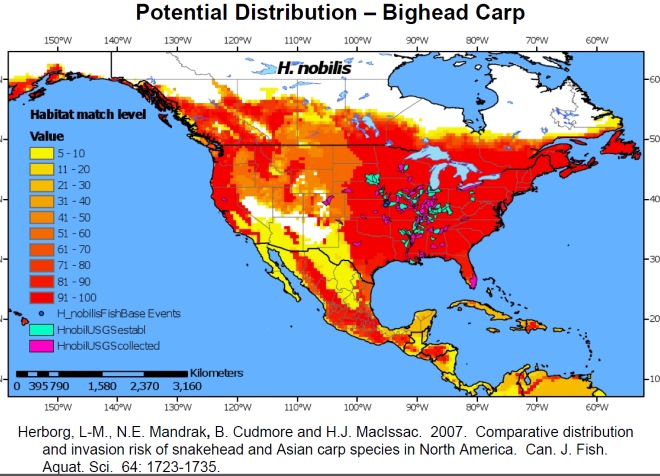 Establishment
What number of individuals is needed to establish a population?
As few as 10 mature females and 10 (or fewer) mature males in the Great Lakes basin have a greater than 50% chance of successfully spawning if the fish locate suitable spawning rivers.
What is the potential biomass?
Bigheaded carps have the potential to become a dominant part of the fish community biomass in favourable locations. This means that of all living biological organisms in the given ecosystem, Bighead Carp would be the dominant species.
Where will they be most abundant?
Lake Erie, including Lake St. Clair, and high productivity bays and other areas of Lakes Superior, Michigan, Huron, and Ontario.
What/how many tributaries would support spawning and recruitment?
Suitable spawning tributaries are found in all lakes.
Canada: 41 suitable spawning tributaries in Canadian Great Lakes basin are accessible from the mouth to at least 100km upstream.
US: 22 suitable spawning tributaries in American Great Lakes basin are accessible from the mouth to at least 100km upstream.

Could they spawn directly in the Great Lakes?
This is identified as a critical knowledge gap within the risk assessment.
Spread
What is the timeframe and direction of spread?
Varies depending on arrival point within the basin, but predicted to be less than 10 years for spread with direction likely Michigan to Huron to Erie.
How long before they reach Canadian waters?
Less than 5 years after arrival into the connected Great Lakes basin via Lake Michigan.
Overall
What is the timeframe of risk for each element?
If no additional management actions are taken:
Arrival – impending
Survival – immediate upon arrival
Establishment – 5 to 20 years (short in southern basin, longer in Lake Superior)
Spread – 5 to 20 years
Consequences – will increase over time